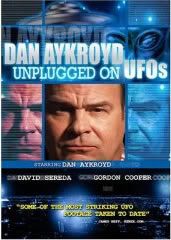 Happy Sunday TWiUPians and this week we are going to present Dan Akroyd Unplugged for our Sunday at the Movies presentation. When you go to Dan Akroyd's Wikipedia page you'd notice his occupations as actor, comedian, screenwriter, musician, winemaker,
ufologist.
Aykroyd considers himself a Spiritualist, stating that:

I am a Spiritualist, a proud wearer of the Spiritualist badge. Mediums and psychic research have gone on for many, many years... Loads of people have seen [spirits], heard a voice or felt the cold temperature. I believe that they are between here and there, that they exist between the fourth and fifth dimension, and that they visit us frequently.[23]
His great-grandfather, a dentist, had been a mystic who had corresponded with author Sir Arthur Conan Doyle on the subject of Spiritualism, and who was a member of the Lily Dale Society.[24]

Other than Spiritualism, Aykroyd is also interested in various other aspects of the paranormal, particularly ufology. He is a lifetime member of and official Hollywood consultant for theMutual UFO Network. In 2005, Aykroyd produced a DVD titled, Dan Aykroyd: Unplugged on UFOs. In it, he is interviewed for 80 minutes by UFOlogist David Sereda where he discusses in depth every aspect of the UFO phenomenon, and reveals specifically that they are blue, not green, but appear that way because of a filter.

On September 29, 2009, Peter Aykroyd, father of Dan Aykroyd, published a book entitled, A History of Ghosts. This book chronicled the family's historical involvement in the Spiritualist Movement, to which Aykroyd readily refers. Aykroyd wrote the introduction and accompanied his father on a series of promotional activities, including launches in New York City and Toronto, an appearance on Larry King Live and various other public relations initiatives. Aykroyd also read the introduction for the audio version of the book.
Dan Akroyd's Wikilink
Now let's check out a bit of a review on Dan's UFO documentary UFOs Unplugged.

Dan goes on record to review many significant UFO & alien issues now facing mankind.
Joining him is David Sereda, in an interview like arrangement, who is in fact asking Dan the questions. Not that Dan is a professional UFO researcher, or physicist - but he does share is pleasant views on the subject. And, after all - he was a Ghostbuster! Anytime a hollywood star steps forward it strengthens the world's fight for the truth.
As a variety of topics are discussed such as the Phoenix Lights, Roswell, the Mexico military UFOs, and the NASA UFOs, a steady flow of quality UFO photographs & video footage adds to the entertainment. It is some of the best quality content ever caput red on film or camera, much of it you may have seen, but at least a few you may not have seen before.
Alien video.net review
Namaste friends! See you next Thursday with another full edition of TWiUP and until then and as always keep looking up!