It's been raining fairly steadily in the area surrounding Ft. Calhoun and all along the Missouri river. Last night they lost a berm.
FORT CALHOUN, Neb. (AP) - A berm holding back floodwater at the Fort Calhoun Nuclear Station has collapsed.

The U.S. Nuclear Regulatory Commission says it's monitoring the Missouri River flooding at the plant, which has been shut down since early April for refueling.

The 2,000-foot berm collapsed about 1:30 a.m. Sunday, allowing the swollen river to surround two buildings at the plant. The NRC says those buildings are designed to handle flooding up to 1014 feet above sea level. The river is at 1006.3 feet and isn't forecast to exceed 1008 feet.

The NRC says its inspectors were at the plant when the berm failed and have confirmed that the flooding has had no impact on the reactor shutdown cooling or the spent fuel pool cooling.

NRC Chairman Gregory Jaczko will visit the plant Monday
KCAUTV link
This is particularly distressing news as the flood control apparatus is being severely tested and unfortunately is starting to show more signs of failure
More people are evacuating their homes, fleeing swift moving flood waters, after a levee breach near Missouri Valley, Iowa.

Harrison county officials have confirmed a private levee breached one mile south of mile marker two on Highway 30. The breach is about 100 yards long near Casey Trail. Law enforcement has advised residents in 18 homes to evacuate.
KTIV TV link
Missouri Valley, Iowa happens to be about 5 miles upstream from Ft. Calhoun.
Meanwhile upstream it's raining, and the Army Corp of Engineers is releasing record amounts of water from the 5 main stem dams that make up the major portion of the Missouri river flood control facilities.
That's the Gavins Point dam, and that is 160,000 cfs
Follow the flooding with the Corp of Engineers Facebook page
Here are some other diaries on the subject.
Attention! Ft. Calhoun Nuclear Plant Flooding Danger Listen to Arnie Gunderson's Concern
Dam Danger, Flooding and Ft. Calhoun Nuclear Power Plant
Would a little American nuclear emergency make you look up? We're having one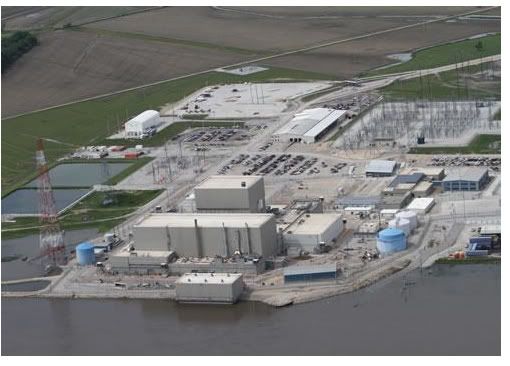 Ft. Calhoun June 19th the day they made their announcement of "unusual event"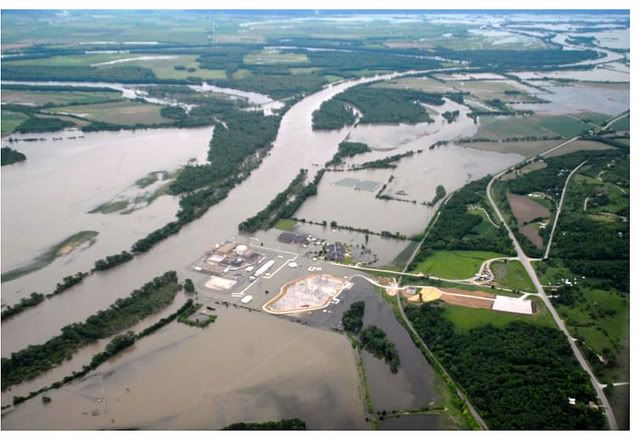 Ft. Calhoun on June 26th