Just in through MSNBC at least 20 arrested including the mayors of Seacaucus and Hoboken. Preliminary reports also state a human organ transplant ring and money laundering outfit attached to the crime.
Reporting is also out showing several Rabbis being arrested. I will update this diary, or delete it entirely if a better arrives.
The Associated Press

NEWARK, N.J. - FBI agents are sweeping across northern New Jersey Thursday, making arrests in what reportedly is described as a major corruption probe.
WNBC-TV in New York reported and showed images of the mayors of Hoboken and Secaucus being taken into FBI headquarters in Newark. The station also showed rabbis being taken into custody
source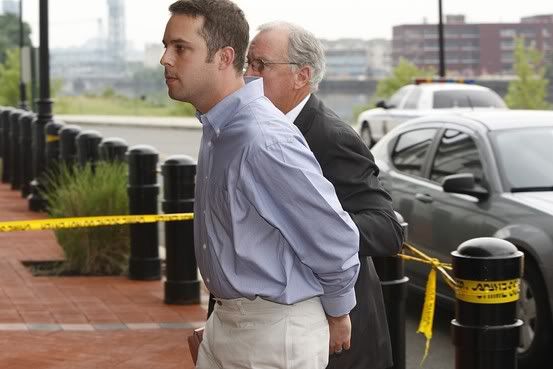 Hoboken Mayor Peter Cammarano III and the frog march.
Hat tip to Bamabikeguy
Among those arrested this morning were Assemblyman Daniel Van Pelt, Jersey City Deputy Mayor Leona Beldini, Hoboken Mayor Peter Cammarano and Secaucus Mayor Dennis Elwell, authorities said. Several area rabbis and other community leaders and politicians, including Jersey City Council President Mariano Vega, were brought into custody in connection with this case, officials said.

Officials say separate from the corruption probe, some of the suspects charged today were also connected to an illegal human organ-selling ring. Investigators say some charged would take cash payments to help find organs for sick patients in need of transplants. It's unclear where the body parts might have come from or how many surgeries may have been done. The FBI, IRS and U.S. Attorney's office all declined comment saying details will be given at the press conference.

In past years, New Jersey has seen more than 100 corruption-related arrests of public officials. There was no word on the specific charges against those being rounded up today, but a press conference is scheduled for noon.
Big stories link
Organ transplants? Could the fact that we have a broken health care system lead to a black market in actual human organs? NAAW!
The plot thickens, according to this source the probe began in the Syrian Jewish communities of Deal and Asbury Park. The G-Men were first alerted by suspicious wire transfers. They apparently followed the money into the public corruption trough.
This guy is calling it the new abscam
Update: What mass arrest would be complete without the perp walk?
Update II: From comments. One of the reasons I love this place is someone will always boil down an issue to an action item. I'm going back to updating the story with the rest of the updates, but Renfro makes a very worthy point regarding the organ selling portion of the corruption.
whether the criminals are dem or repub..it's really going around the bend to be concerned about that. It's also not about the broken health system...even if we fixed it we would still have the organ shortage problem

This is about criminals and/or organized crime taking advantage of that void.
And naturally they prey on the poor and desperate for organs.

It took me a long time to finally list myself as a organ donor on my driver's license.I had the typical concerns like gee, if I was in a accident will some doc let me go ahead and let me expire because he's got someone who needs my liver? But then the older I got the more I figured what the hell, if I am on the way out go ahead and take it.
Sign up and become an organ donor
Update III: Here is a partial list of suspects and the allegations.
Peter Cammarano III, the newly elected mayor of Hoboken and an attorney, charged with accepting $25,000 in cash bribes, including $10,000 last Thursday, from an undercover cooperating witness.L. Harvey Smith, a New Jersey Assemblyman and recent mayoral candidate in Jersey City, charged along with an aide of taking $15,000 in bribes to help get approvals from high-level state agency officials for building projects.Daniel Van Pelt, a New Jersey Assemblyman, charged with accepting a $10,000 bribe. Dennis Elwell, mayor of Secaucus, charged with taking a $10,000 cash bribe. Anthony Suarez, mayor of Ridgefield and an attorney, charged with agreeing to accept a $10,000 corrupt cash payment for his legal defense fund.Louis Manzo, the recent unsuccessful challenger in the Jersey City mayoral election and former state Assemblyman, and his brother and political advisor Robert Manzo, both with taking $27,500 in corrupt cash payments for use in Louis Manzo's campaign. Leona Beldini, the Jersey City deputy mayor and a campaign treasurer, charged with taking $20,000 in conduit campaign contributions and other self-dealing in her official capacity.Eliahu Ben Haim, of Long Branch, N.J., the principal rabbi of a synagogue in Deal, N.J., charged with money laundering of proceeds derived from criminal activity. Saul Kassin, of Brooklyn, N.Y., the chief rabbi of a synagogue in Brooklyn, New York, charged with money laundering of proceeds derived from criminal activity. Edmund Nahum, of Deal, N.J., the principal rabbi of a synagogue in Deal, charged with money laundering of proceeds derived from criminal activity. Mordchai Fish, of Brooklyn, N.Y., a rabbi at a synagogue in Brooklyn, charged with money laundering of proceeds derived from criminal activity. His brother, also a rabbi, was charged as well.
Source