That is the lament of Charles Jones a 25 year old father after having just witnessed the police execution of his 7 year old daughter Aiyana Jones on Sunday May 16th.
The police were in search of a murder suspect who was reported to have been in the building, and had a warrant to seek him in the building. However rather than a murder suspect what the police encountered was a family going about its normal Sunday night.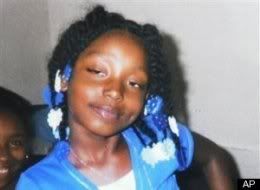 More on the police killing of a sweet little girl over the fold.
Charles had just put his precious little daughter to sleep on the living room couch in her favorite Disney princess blanket and retired for bed when he was awakened by a flash bang grenade followed by a gunshot.
Assistant Chief Ralph Godbee said officers set off the flash grenade as they entered the apartment with their guns drawn about 12:40 a.m. Sunday with a warrant to look for a suspect in the Friday slaying of a 17-year-old boy. The lead officer's gun went off after he encountered a 46-year-old woman inside the front room of the home and "some level of physical contact" ensued. Police do not believe the gun was fired intentionally..snip

Family members identified the woman as the child's grandmother and Charles Jones' mother, Mertilla Jones, who has said she was not involved in a struggle with the officer. Police later said the officer may have just collided with the woman
Huffpo link to the story
The suspect was not in the Jones home nor did he live there. Police did find the suspect later in the building however that is no comfort at all to the now grieving family of Aiyana. Imagine how this must feel. Boom bang and you come out of your bedroom to see your child's life's blood flowing on your living room carpet.
"This is a tragedy of unspeakable magnitude to Aiyana's parents, family and all those who loved her," Godbee said. "It is a tragedy we also feel very deeply throughout the ranks of the Detroit Police Department."
Oh you feel the tragedy do you? Do you feel it like a man who has just had his daughter's life removed before his eyes by an organization he pays to protect he and his family? Do you feel it like whoops we made a boo boo? Was this really a tragedy or just another example of how the lives of non white people weigh very lightly in the minds of police officers?
Godbee would not comment on newspaper reports that neighbors told police there were children in the house and showed them toys in the front yard. The girl's father said three other children besides Aiyana were in the home when the raid happened
Why won't you comment? Do you think the public might react poorly to the idea of police going into a home full of children while they aren't in control of their weapons and where the lead things are heading?
I have an idea. When you know there are children in the house maybe you shouldn't shoot them.
"Her blood was everywhere and I was trying to stay calm, but nobody would talk to me. None of them even tried to console me," Jones told The Detroit News.
The officer responsible for shooting Aiyala in the neck is currently on paid administrative leave. I have little doubt that whatever investigation ensues following this "accident" will result in just one more sorry little black lady that's just what you get for being in the neighborhood, and the officer responsible will go back to work. I'm just curious to see if this story will recieve any of the light a blonde little girl recieves after her mother kills her.
Rest in peace little angel. I weep for the potential stolen.
Update 11:55 PST
I was outraged about this story before but now I've entered livid territory. I hesitate to include this little nugget of information because as of yet I can't source it properly, but as it speaks to the story so well here it goes..They were FILMING FOR THE SHOW "The First 48" a reality television show that airs on A&E when this little girl lost her life. This as of yet unconfirmed, but if true has to be grounds for people to lose their job.
"When he rushed into the living room, he said, police forced him to lie on the ground, with his face in his daughter's blood."
Hey but I bet it's going to make some absolutely riveting television.
Update II 1:22
I'm gonna call the earlier idea of a video being made as confirmed, and I'm going to move this story to the realm of lying police officers. To the commenters who defended the actions of the police as understandable I ask is it normal to shoot before anything actually happens? Face it they were trying to hype the drama for their TV show and killed a little girl in cold blood.
An attorney for the family of a 7-year-old girl slain during a weekend raid at their Detroit home says video footage contradicts the police department's version of events.

Geoffrey Fieger (FY-gur) said Monday that the video shows police fired into the home at least once after lobbing a flash grenade through a window.
Comcast news link
I had to remove the video it was causing the diary to malfunction.
UPDATE:
If anyone else would please diary this story I would appreciate it. It's growing there is a video and according to the families lawyer.
Attorney Geoffrey Fieger said he watched three or four minutes of video that showed police fired into the home after lobbing a flash grenade through the window. He said this contradicts the police department's story, which was that the officer's gun discharged during a struggle or collision inside the home with the girl's grandmother.

"There is no question about what happened because it's in the videotape," Fieger said. "It's not an accident. It's not a mistake. There was no altercation.

"The gun was fired before anyone goes through the door. There are lights all over, like it's a television set."
The words fail. They set up the murder of this little girl for a reality TV show.