How many times in American history has the wife of the nominee of the Republican Party stood before our country to revere a felon? The answer to that question is at least once now that Cindy McCain stood in another quarter million dollars worth of fashion and told America the story of her father Jim Hensley.
Cindy McCain told us last night a very glowing story of her father. How he mustered out of the Army Air Corp and saved and scrimped to start a business that grew into the (12 is it now?) houses and outfits that cost more than most peoples homes. That the legitimate arm of this business is one that trades on human misery and vice is another story. This one is just pure Arizona bootlegger gangster. Let's jump.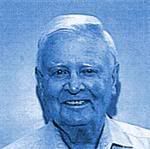 After Jim Hensley got out of the Army and settled back in Arizona he went to work with his brother Eugene with another liquor "businessman" named Kemper Marley. Here is an example of how he and Eugene did business.
Joseph F. Ratliff was just about to wrap up another day as office manager at United Distributors Company when two of his bosses, Eugene and James Hensley, paid a visit to Ratliff at the company's Tucson liquor distribution warehouse around 5 p.m.
His job was to oversee shipments of whiskey into and out of the United Distributors' warehouse by keeping track of invoices, filing tax and sales reports with the federal government and monitoring cash flow.
During and after World War II, the sale of whiskey was tightly regulated by the federal government. Demand for whiskey was high, particularly on the black market, where prices were more than double the regulated market price.
"'Well,' Gene Hensley says, 'It is five o'clock, why don't you go home? It is time to close,'" Ratliff told Assistant United States Attorney E.R. Thurman in sworn testimony in March 1948.
Ratliff went home.
Upon his return to the warehouse the next morning, Ratliff found a disturbing sight.
"When the warehouse man came down and opened the warehouse, I started out through the warehouse to go to the men's room, and I noticed there was two rows of whiskey there the night before that wasn't on the floor that morning. So I went back to the office. I thought we had been robbed."
In his office, Ratliff found another surprise.
"There was a bunch of invoices in my desk that had been made out after I had left the office, apparently," Ratliff testified.
The invoices appeared to be related to the whiskey -- about 50 cases -- that had disappeared from the warehouse overnight.
Ratliff went outside to empty some trash and noticed "a pile of empty whiskey cases out there." Tangled up in the pile of boxes were federal tax serial labels that were supposed to remain with the liquor when sold to a retailer.
Ratliff recognized the handwriting on the invoices as belonging to then-25-year-old James Hensley, who had become general manager of the Tucson operation in June 1945 after a three-year stint in the military. James Hensley had served as a bombardier on a B-17 and was shot down over the English Channel on his 13th mission.
Ratliff wasn't sure what was going on until later that day, when James Hensley returned to his office.
"He came in and paid me for those invoices," Ratliff testified. "Cash sales."
Ratliff dutifully marked the invoices as paid.
The seven invoices prepared by James Hensley -- after the warehouse was closed -- indicated the liquor had been sold and delivered to seven establishments in southern Arizona. The Manhattan Club in Tucson supposedly got eight cases of Seagram's and Walker Imperial. Nu-Way Grocery in the Lowell district of Bisbee was credited with receiving 10 cases, while James Hensley showed the Merchants Cafe in Douglas to have received eight cases. The Blue Room in Douglas was credited with buying 10 cases; Lee Hop Grocery in Tucson got two. The Ar-Jay Store in Tucson, six cases. The Old Tumacacori Bar in Nogales, seven.
In fact, none of the liquor went to the retailers named in the invoices prepared by James Hensley. Nobody but James Hensley knows where it really went, and he never told authorities.
That is the way Cindy Lou's fortune was founded. The fortune that helped fuel John McCain when he was riding around campaigning riding around in taxis. The federal government actually found over 1200 of these fake instances related to thousands of crates of liquor.
A federal jury in U.S. District Court of Arizona in March 1948 convicted James Hensley on seven counts of filing false liquor records in addition to the conspiracy charge. Eugene was convicted on 23 counts of filing false statements and the conspiracy count. Eugene was sentenced to one year in prison, and James to six months.
After a two-week stint in the Maricopa County jail, the men were released on bond on May 17, 1948, pending an appeal to the U.S. 9th Circuit. The appeals court affirmed the conviction on February 8, 1949.
Two weeks later, a judge sentenced Eugene to one year in a federal prison camp near Tucson, but suspended James' sentence, placing him on probation instead. Both men were fined $2,000. United Sales and United Distributors were also convicted and fined $2,000.
http://www.phoenixnewtimes.com/2000-02-17/news/haunted-by-spirits/2
Our friends from Republicorp are subverting everything we know as Americans. They have nominated a woman who has associated more than just lightly with people who would like to tear our country apart with Sarah Palin and her AKIP ties, and last night they had their presumed first lady present a felon bootlegger as role model. We are falling down a very strange rabbit hole indeed