Hey Yo! This is your man Adeptit hollerin at ya from MTV's brand new crackin joint Pimp my Veep, brought to you by my homeboys from Republicorp. We travel all around the country hookin up candidates who gotta Veep that is just too through. Today we are going to surprise John McCain.
Yo! John, tell us about your Veep.
Thank you my friend. I'm very proud of my Veep. All the playas know that the 64 Sarah Palin is the shiznit. She has the five colleges in six years and the journalism degree. She's got the sportscaster package on her. She's all hooked up with the fishing and hunting upgrade, and she ran a town that has less people than your high school, and a state with less people than your city.
Yo! how'd you pick up this Veep.
Well my friend I bought her sight unseen and vetting is for punks. I have men who I'm very proud of who work for me. They know what America needs and I am very proud of them and they found her up in Alaska. When I was looking for my Veep I kept in mind just one thing – Country First. I was looking at the 42 Liebermann, but I was afraid I couldn't find parts. Anyway when they brought My Sarah to me I just knew she was the one.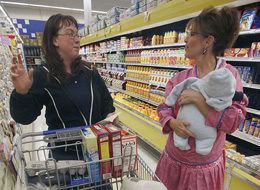 Oh snap John! That's gonna be a gang of work. The boys at the shop will be cashing in on the overtime, but yo she's hot no doubt. Does she run?
Well my friend I'm very happy with her abilities and experience. Charlie Gibson start her up and let Adeptit hear what she's got under the hood.
GIBSON: Do you agree with the Bush doctrine?
64 Palin: In what respect, Charlie?
GIBSON: The Bush -- well, what do you -- what do you interpret it to be?
64 Palin: His world view.
Yo! John we're good but were not miracle workers. I don't know if she's gonna make it six months or six weeks, but Yo! we'll see what we can do. Yo! John lets toss her on the truck and take her to the shop, see what the boys can do for her.
Yo! Adeptit back in the house for sure. I got my boys Needless Markup, and Saks Master 5th Avenue here and they are ready to pimp John's Veep.
Yo! Saks Master tell me what you got up for Sarah.
Thank you Adeptit. Soul brother this wasn't easy we had to strip off a gang of moose and salmon from the undercarriage, but I think John's gonna really dig what we did. Anyway here it is.
• Armani jacket $1,295, with matching pants, $575. Total: $1,350
• MaxMara Sovrana cowl-neck jacket, $965, with matching skirt, $340. Total: $1,305
• Donna Karan tweed jacket, $3,995, and matching skirt, $2,695. Total: $6,690
Ralph Lauren Collection cashmere turtleneck dress (to pair with a jacket), $2,498
Hosiery:
• Two pairs of Wolford tummy-control hose, $52 each. Total: $104
Shoes:
• Salvatore Ferragamo Nerissa suede pumps, $750
• Jimmy Choo Hallie knee-high boots, $1,195
GRAND TOTAL: $25,129 before tax.
Yo! yeah, Oh yeah that's hot that's real hot. So Needless what were you able to do for sexy Sarah.
For sure Adeptit. I know John is gonna be hyped when he sees what we did to Sarah.
• Eli Tahari contrast-stitch skirt suit, $498
• Kay Unger New York three-button jacket, $240, paired with Kay Unger New York crêpe trousers, $175. Total: $415
• Badgley Mischka Nikki military jacket, $578
• Escada belted jacket, $1,490
• Escada zip-front jacket, $1,850, paired with matching wool pencil skirt, $650. Total: $2,500
Outerwear:
• Fleurette belted coat, $1,125
• Fendi leather jacket (we know you're thinking she'd never wear Fendi, but this is subtle Fendi), $2,660
• Valentino button coat, $5,590
Shoes:
• Versace buckle-toe pump, $750
• Yves Saint Laurent tall boot, $995
GRAND TOTAL :$16,601 before tax
Needless and Saksy's pimped out shopping list
Yo! Alright men let's go get John and show him what you guys did.
My friends I can't tell you how proud I am of you. I'm not sure if you knew this but I was a POW and I want to tell you when the guards would treat me like they did all I could do to stay sane was to dream of a day like this when I could proudly accept a Sarah that looks this good. Were you able to get her to run any better?
Yo! I know I told you not to expect any miracles dog! But, we were able to hook her up so she will at least run. Yo! Katie start her up and show John what she can do now.
Couric: I want to start with climate change, if I could. What's your position on global warming? Do you believe it's man-made or not?

64 Palin: Well, we're the only arctic state, of course, Alaska. So we feel the impacts more than any other state up there, with the changes in the climates. And certainly it is apparent. We have erosion issues and we have melting sea ice, of course. So what I've done up there is form a sub-cabinet to focus solely on climate change. Understanding that it is real.

Couric: Is it manmade in your opinion?

64 Palin: You know ... there are man's activities that can be contributed to ... the issues that we're dealing with now with these impacts. I'm not going to solely blame all of man's activities on changes in climate. Because the world's weather patterns ... are cyclical. And over history we have seen changes there. But kind of doesn't matter at this point, as we debate what caused it. The point is it's real, we need to do something about it. And like ... Tony Blair had said ... when he was in leadership position, he said, "Let's all consider the fact that it is real." So instead of pointing fingers ... at different sides of the argument as to who is to blame, and if nature just to blame, let's do something about it. Let's clean up our world. Let's reduce emissions. And let's go with reality.
Adeptit my friend that didn't make any sense at all but at least she is running. She looks good enough to get me through November 4th so my friend I am very proud and grateful for this opportunity to introduce Sarah to America and really shake things up!
Yo! John good luck with that, Yo! This is Adeptit with Pimp My Veep with my amped friend John just ready to take his Veep on the trail.
Next week we will visit with Barack Obama and his Veep Joe. We will be pimping him out with an entire new dope set of stay on message gear. Until then peace!